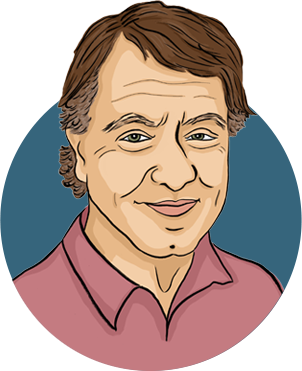 Ray Kurzweil, the author
Ray Kurzweil is one of the world's leading inventors, thinkers, and futurists, with a 30-year track record of accurate predictions. Called "the restless genius" by The Wall Street Journal and "the ultimate thinking machine" by Forbes magazine, he was selected as one of the top entrepreneurs by Inc. magazine, which described him as the "rightful heir to Thomas Edison." PBS selected him as one of the "sixteen revolutionaries who made America."
Ray was the principal inventor of the first CCD flat-bed scanner, the first omni-font optical character recognition machine, the first print-to-speech reading machine for the blind, the first text-to-speech synthesizer, the first music synthesizer capable of re-creating the grand piano and other orchestral instruments, and the first commercially marketed large-vocabulary speech recognition machine.
Among Ray's many honors, he received a Grammy Award for outstanding achievements in music technology, is the recipient of the National Medal of Technology, was inducted into the National Inventors Hall of Fame, holds 21 honorary doctorates, and received honors from three US presidents.
Ray has written five national best-selling books, including New York Times best sellers The Singularity Is Near (2005) and How To Create A Mind (2012). He is Co-Founder and Chancellor of Singularity University and a Director of Engineering at Google, heading up a team developing machine intelligence and natural language understanding.
---
Shaping our world. Forecasting the next.
With his significant advances in technology, Ray has helped to create the world we experience today. He's just as revered for his thoughts on where we're headed. Take a look at Ray through the years and see what led up to the writing of Danielle.
Ray has advanced the fields of speech, text, and audio technology. He's revered for his dizzying—yet convincing—writing on the advance of technology, the limits of biology, and the future of the human species.
Ray, inventor and futurist
Ray Kurzweil, a proper introduction
Watch as the Liberty Science Center honors Ray with the Genius Award at its Genius Gala 6.0. See how Ray began as a young inventor and continued to shape our world while making bold and accurate predictions about the future.
WATCH NOW
Ray's brief but spectacular take
PBS NewsHour sits down with Ray for a lightning-fast 2:47 to find out where he came from and where we're going. Ray talks about the exponential growth of information technology in a way that makes sense while also blowing your mind. Where will we be in the near future, and what will something like death look like? Watch and see.
WATCH NOW
What is the future of education?
It's a good question, and one that Ray answers in this installment of RAYK Q&A, the show where Ray answers questions about the future. Watch as Ray talks about the knowledge we carry with us and how it will impact our lives differently in the time to come. How learning and following our passions will help us solve humanity's grandest challenges.
WATCH NOW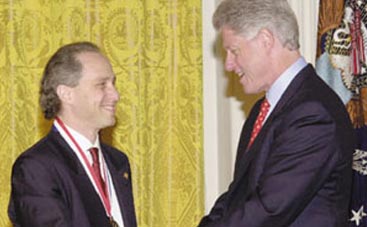 Ray receives the National Medal of Technology
President Clinton presented Ray Kurzweil with the National Medal of Technology, the nation's highest award for technological achievement, in March 2000.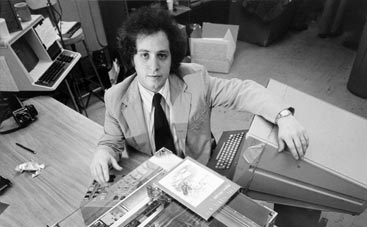 Ray and the Reading Machine
Ray Kurzweil with a close-up of the Reading Machine for the Blind 1976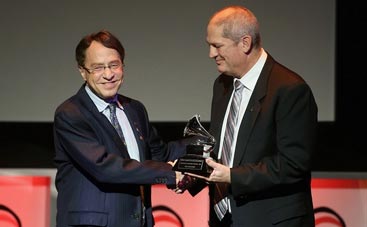 Ray winning a Grammy
Record producer Mike Clink and honoree Ray Kurzweil at the 57th Grammy Awards, Special Merit Awards ceremony on February 7, 2015. Kurzweil received the Technical Grammy Award. (credit: WireImage )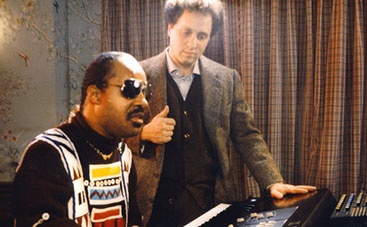 Ray and Stevie
Historic photo of Ray Kurzweil with Stevie Wonder playing a Kurzweil 250 synthesizer in 1985. (credit: Kurzweil Technologies)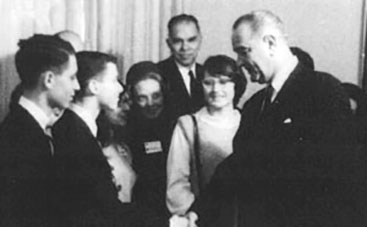 Ray meeting LBJ
Ray Kurzweil with the group of young competition finalists at the White House w. US President Lyndon Johnson 1965.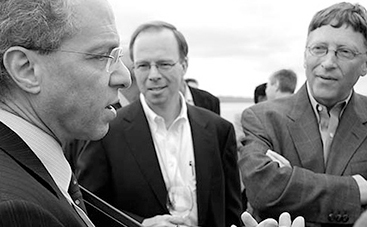 Ray and Bill Gates
Ray Kurzweil at Microsoft's CEO Summit in Seattle on May 20, 2004. (Credit: Photo by Gary Voth. Courtesy of Kurzweil Technologies, Inc.)